This page may load a little slow, but that is due to the higher quality of the images. "Scroll Down" for more photos.

To Send an Opt-In Email Click Here

Consoles I have known and Loved: 1992 to Now
" And that I have pictures of ". I really liked an old Trident
at the Record Plant that I used a few times, but I have no pictures of it.
I have used a number of boards, but I liked the sound of these
and the Trident the best for a great acoustic instrument sound.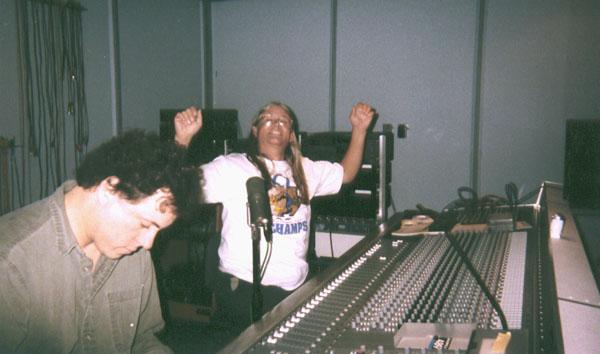 Jim Moss (left) working on track-sheets and the late Dave Shogren (right)
(Founding member of the Doobie Brothers) engineering in Control Room of
Subsonics Studios, San Jose California. In 1998 this installation was moved
and became Jim Moss's Blueberry Records Studios.

We recorded the Jim Moss album with Frank Wakefield & Bob Black
on the AKAI DR16 and backed up to ADAT. If needed we could
combine the 16 channels of the DR16 with the 16 channels of the 2 ADATs
producing a total of 32 channels. This is a perfect match for the 32 channel
Neotek Elan console. Of course, in Traditional Bluegrass one can do just
fine with 16 or even 8 channels. The studio started out with a 24 channel
Studer 2" machine, but quickly changed over to the DR16 digital recorder.

This console, a Neotek Elan, won an audio double blind test against a 1990 Neve
and an 1990's SSL console in a test conducted at Abby Road Studios.
The Neotek is not a flexible or automated as the other boards, it just
sounded better in that published test.

Photo by Bob Black
( Photo Date Nov. 12th 1997 )
Dave Shogren in the Subsonics Control Room
Subsonics Studios, San Jose California

Photo by Bob Black
( Photo Date Nov. 12th 1997 )
Consoles I have known and Loved: 1982 to 1992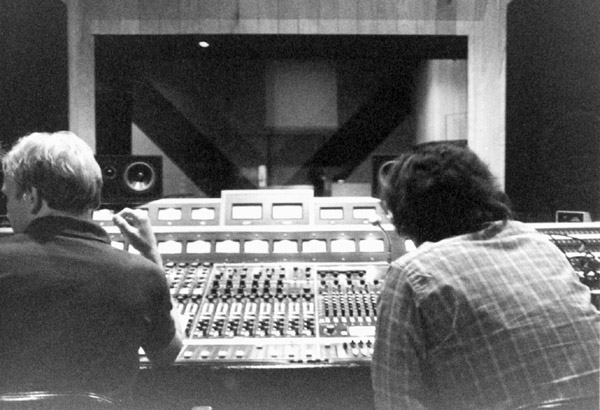 L to R: Keith Katheck, Jim Moss. Tracking in the Music Annex Control Room
It was here that many well known bands recorded basic tracks
on the NEVE console. It was not uncommon to find Carlos Santana,
The Tubes, John Lee Hooker or Windham Hill Records in these rooms.
At this time these rooms had either an MCI or STUDER 2 inch tape
24/16 track machines, I know because I owned one of each that were there
between 1981 and 1993 or so.

Music Annex, Menlo Park, California
Photo by Linda Belisle
( Photo Date Oct. 1984 )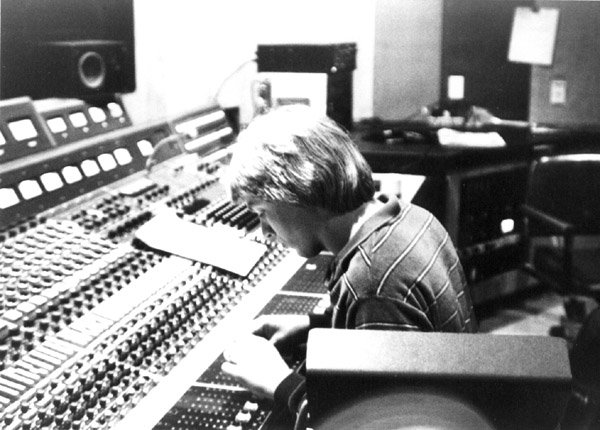 Russell Bond in the Music Annex Control Room
during tracking of "Through The Winshield" on the NEVE Console.
This board was old but it had transformer coupled transistor amplifier stages,
with transformers hand wound by Rupert Neve himself. It was the warmest
board around. You can see one of these boards at George Martin's
Studios in the documentary "The Beatles".
Music Annex, Menlo Park, California
Photo by Linda Belisle
( Photo Date Oct. 1984 )
CLICK HERE TO: Return To PHOTO Page Listings

CLICK HERE TO: Return To The INTERVIEW Listings


Click Here To Return To Main Page


All Rights Owned by Mossware LLC