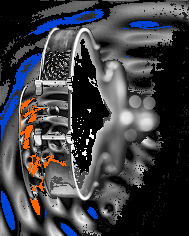 Rumors, Stories, & Interviews "Scroll Down"


Let me know you what you think or send in a story, click->

Newsletter Opt-In Email (Click Here)




A short interview with Jim Peva conducted by Jim Moss 10-27-97:

NOTE: If permission to reprint this is granted by owner, each part must presented
in its entirety with the "by line" and URL "www.candlewater.com"
JM: Jim, when was the first time you saw Bill Monroe and the Blue Grass Boys
perform?
JP: It was in 1961 at the Brown County Jamboree Barn in Bean Blossom,
Indiana. I had heard Bill on the Opry before but I had never seen him perform
in person. I will never forget when they took the stage and played
"Watermelon Hanging on the Vine" - with that high-pitched fiddle - the hair
stood up on the back of my neck. I guess that was a sign I was born a
bluegrass fan.
JM: Can you remember the first time you met Bill Monroe and talked with him?
JP: Yes, it was also in 1961. I was the program chairman for a banquet that
was held in connection with my work. We always had some form of musical
entertainment at the banquet and I had talked to Birch Monroe about whether
Bill would be available. He told me the next time that Bill would be at the
Jamboree Barn so I made it a point to be there. That was probably in June or
July of 1961. I interrupted a jam session in the little warm-up room in the
back of the Jamboree Barn and asked to talk to Bill. He came outside, still
"chopping" on his mandolin, and I told him the details - the banquet was to be
on Wednesday evening, September 13, 1961, at a Masonic hall in Terre Haute,
Indiana. Bill said he could make it and would charge $250 and $50 extra if we
wanted a comedian. We shook hands and I asked him to send me a contract in
the mail, and gave him my card with the date & place written on the back.
JM: What was your impression of him on that first meeting?
JP: My immediate impression was that he wanted to get back to the jam
session. I was concerned that he might misplace the date, time, and place but
thought we could take care of that when I received the contract in the mail.
JM: When did you next hear from him?
JP: I didn't hear from him or see him until the evening of the banquet,
which, by the way, was on Bill's 50th birthday. I had told him to be there in
plenty of time to eat with us before the show started, but they were late. I
had never received any contract and was just about to give up on them when
they showed up, explaining they had trouble finding the Masonic hall. I
learned later, from Birch, and others, that Bill didn't think written
contracts were necessary if you had "shook" on a deal.
They changed clothes and put on a fine show and had their steak afterwards.
JM: Who was in that band, do you remember?
JP: Bessie Lee Mauldin was playing bass, Bobby Smith, guitar, Benny Williams,
fiddle, and the banjo player was Joe Drumwright. Rusty Adams came with the
band and he put on a comedy/impressionist act. At that time the band was
traveling in a station wagon with the bass fiddle tied on the top.
JM: Did you get to know him better later on?
JP: Yes, I don't believe we missed a Sunday show at the Jamboree Barn when
Bill was playing there for the next several years, all through the 1960s and
into the 70s.
My wife and three daughters would go too, and we would get there early and sit
on the front row so I could tend to the tape recorder (which was big and bulky
back in those days). Bill literally watched my three girls grow up on the
front row of the Jamboree Barn. He liked to joke with the girls about all of
the dogs he had on his farm. He said he had named one of them "Birch Monroe"
and another one "Jim Peva". He would always seem glad to see us before the
shows started, when he was "mingling" with people in the barn, and he never
failed to shake hands. One Sunday as I was standing just inside the entrance
to the barn, talking to some friends, someone came up behind me and got me in
a powerful "bear hug" from behind. When I finally twisted loose, I found that
it was Bill. I figured from that gesture that I was welcome at Bean Blossom
and had been accepted as one of Bill's circle of friends.
JM: So it wasn't conversation that led to your friendship?
JP: No, Bill was a man of few words. He was a hard man to strike up a
conversation with. His response to just about everything was "Yessir", or
"Nosir", or a chuckle with a far-away look in his eyes - like he was listening
to music in his head. After I got to know him better, I really believed that
he was basically a shy person, and a person who believed that action speaks
louder than words.
JM: So the fact that Bill noticed that you seldom, if ever, missed one of his
shows probably made more of an impression on him that anything you might have
said to him -
JP: Exactly.
JM: In those early days did you ever realize that Bill Monroe was an
extraordinary kind of person, one who would become a legend?
JP: Well, aside from his musical genius, I believe I subconsciously
recognized that he was certainly out of the ordinary. He had already been a
member of the Grand Ole Opry for 22 years when I first met him. But it was
more than just show biz glitter. The hard-driving energy that he put into
each and every show - whether there was a large crowd or just a few people in
the audience - was quite obvious. The fact that he would put on work clothes
and do hard manual labor on the Bean Blossom property - and expect his band
members to do the same - made him an exception to the general rule of show
business personalities. He never failed to include a Gospel song or two in
his shows. He believed in hard work and would not tolerate laziness. He
appreciated loyalty and often spoke kindly of those who had,
"stuck by me down through the years". One time when we were talking about Ed
Mayfield's death in the prime of his life, he said his biggest regret about
that was that Ed was not a church-goer, and hadn't been saved. By today's
standards these might seem like "old fashioned" values, but they were the
values of Bill Monroe. But more than anything else - and this became evident
in his later years - Bill Monroe was the epitome of perseverance - overcoming
all obstacles to carry on his music.
JM: Did you ever hear Bill use profanity?
JP: In the 35 years that I knew him, I only heard him use profanity on one
occasion. Bill simply could not tolerate a man using obscene language to a
woman. That seemed to upset him more than anything else. One day at a Bean
Blossom festival, an intoxicated man was arguing with his female companion,
using loud, obscene language. Bill shook his head and said to me, "These
ornery sons-of-bitches that come to these festivals!" That was it, no
elaboration, no further comment. I was so surprised that I will always
remember that comment.
JM: Did you ever see Bill use alcohol or tobacco?
JP: Bill hated smoking, particularly cigarette smoking. He also detested
beer, calling it "slop". He told a story one time about his father, James
Buchanan "Buck" Monroe, giving a small amount of moonshine whisky in his hand
to his mules, to make them "pull harder". He did have a small glass of wine
at my house one time, before a meal, but I never saw him drink any other
alcoholic beverage.
JM: Oh yeah, he told me butter was "Slop". I think he disliked anything fermented.
He said something about hard liquor was not as bad as beer and wine. It sounds like
a cleanliness issue to me.
You have known many of the Blue Grass Boys. Surely you have some
favorite Monroe stories you have heard from them.
JP: Yes, I have heard several, but I want to be clear that in passing on any
of these stories that I have nothing but respect for the memory of Bill Monroe
and do not intend to disparage that memory in any way. He was a good friend,
he was good to me and my family and I would do nothing to belittle his
reputation. But, let's face it, Bill Monroe was a legendary personality in
his own time and I'm sure that legend will grow as more time passes. Maybe
these stories will give some insight into the personality of one of America's
greatest musical treasures. Gregg Kennedy, a former bass player with the Blue
Grass Boys, told a couple of stories about Bill. He said one time the bus was
traveling through hilly terrain when Bill told the bus driver to stop. (He
had to get out to relieve himself). The driver did not immediately respond,
as he was looking for a wider berm to pull off. Bill became irritated and
said, "I told you to stop, now!" The driver complied, pulling off on a narrow
shoulder. Bill stepped out of the bus door and launched himself down the side
of a steep slope, crashing and cascading over briars, bushes and boulders to
the bottom. After a long silence, he scrambled back up the slope, pulled
himself into the bus, and pointing his finger at the driver, said, "You're
fired".
JP: Another time on the bus, Gregg, a young, skinny kid from Oklahoma, had a
habit of propelling himself up the bus aisle from rear to front by placing his
hands on the seats on both sides and swinging his legs and feet ahead of him.
On one trip as he was doing this, he unknowingly put his left hand squarely on
top of the sleeping Monroe's head, waking him. Bill's immediate response was,
"Do that again and I'll kill ya".
JP: But one of the funniest stories (to me), was told by another of the Blue
Grass Boys, I don't remember who, maybe it was James Monroe. It seems that
the bus was traveling on an interstate and had stopped at a service area for a
meal. The Blue Grass Boys sat at one table and Bill sat at another table by
himself. After the meal, they drifted back to the bus one by one and started
down the interstate, not realizing that they had left Bill behind at the
restaurant. When he discovered he had been left behind, Bill called ahead to
the next service area to have the bus stopped to come back to get him. On the
way back, the Blue Grass Boys were in a quandary. Nobody wanted to face Bill,
who they assumed would be mad as a hornet. So they voted and selected James
Monroe, who was then playing bass in his father's band, to go in and get Bill
when they arrived at the restaurant. Bill was sitting at a table, drumming
his fingers on the table top. James walked up, and in the most nonchalant
manner he could muster, said, "Well, you 'bout ready to go, Chief"?
JM: Those are funny stories. I hear that Bill Monroe was a pretty hard man
to work for.
JP: Well, you hear different versions from various members of the band. I
think he was a man who wanted things to be done right and he ran a pretty
tight ship. Another story I have heard, and I can't verify the accuracy of
any of these stories, is that at one time Bill gave orders that the bus aisle
was to be kept free and clear of anything you might stumble over. One of the
Blue Grass Boys had bought a new pair of boots. As they were playing cards,
he unconsciously slipped the boots off his feet and they landed in the aisle.
Bill later spotted them and threw them out the bus window!
JM: Wow! Do you suppose he really did that?
JP: I don't know, of course, but one time we were backstage with him at the
new Opry House (not the Ryman). He used dressing room number 2, and as he
entered the room he spotted a guitar case on the floor. He asked one of the
band members, "Is that _________'s guitar"? The band member said yes, it was,
and Bill grabbed the handle of the guitar case and with perfect bowling form,
slid it about 75 feet down the hallway. Obviously, it was someone he didn't
want to share his dressing room with.
... end ...

CLICK HERE TO: Return To PHOTO Page Listings

CLICK HERE TO: Return To The INTERVIEW Listings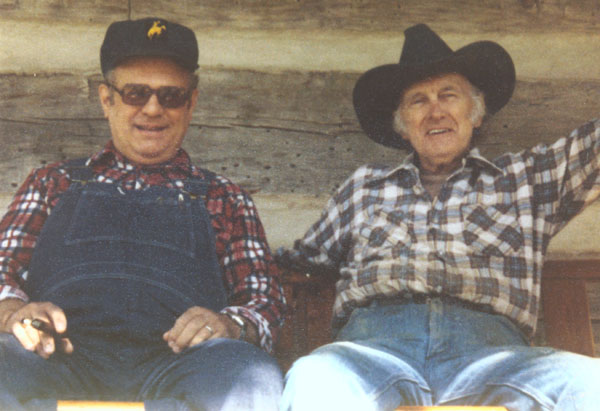 Left to Right, Jim Peva and Bill Monroe at Monroe's farm in Goodlettsville Tenn.
Photo by Ailene Peva (1986)
Click Here To Return To Bluegrass Menu Page

CLICK HERE TO: Return To The INTERVIEW Listings

All Rights Owned by Mossware LLC.
Any use of these materials must be approved of in advance and in writing.