Frank Wakefield Meets Jerry Garcia, Part II
"Scroll Down"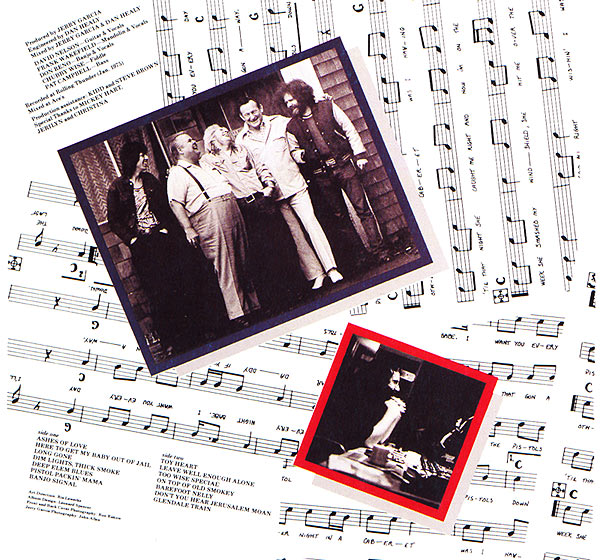 Pistol Packin Mama 1975.
LtoR (top): Pat Campbell, Chubby Wise, Frank Wakefield, Don Reno, David Nelson
(bottom): Jerry Garcia at the mixing console.
Photo by Jim Moss
Rumors, Stories, & Interviews

Let me know you what you think or send in a story, or if you would like to order this CD,
click here to email me-> Newsletter Opt-In Email (Click Here)



Read About
The Frank Wakefield
ULTRA CLEAR DVD LESSON SERIES
http://www.candlewater.com/BlueberryRecords/FWDVDSeries/




Frank Wakefield on Recording Bluegrass with Jerry Garcia, by Jim Moss
Part 2
Frank Wakefield (continued): The other songs on the album were: Leave Well Enough Alone,
Ashes of Love, Baby Out of Jail, Dim Lights, Deep Elem Blues, Pistol Packin Mama,
Toy Heart, On Top of Old Smoky and Glendale Train. Garcia really wanted to try
Don Reno's banjo, but he was afraid to touch it and he was sort of scared of Don
because Don was such a great musician and a legend. So I carried Don's banjo
back to Jerry in the control room so he could try it. Jerry couldn't hardly believe
that he was getting to play Don's banjo. David and Garcia were both sort of
scared of Chubby too. After a bit, I took the banjo and said to Don,
"Now Don, here's a tune you wrote that I can play exactly like you." I put a clamp
on the neck in A and played "I'm Using My Bible for a Road Map". Don first
started his harmony style with this song. Don's harmonies on that were really pretty.
When that song first came out people thought it was a steel guitar on it.
After I played it for Don I said, "I been showing a lot of banjo players how you
play that tune. Now ain't that exactly how you play that tune, Don?" Don looked
at me and said, "Well, more or less." "More or less", I said, "I have been telling
everyone that's exactly how you play it." Don took the banjo from me and said
really softly, you know Don always spoke real soft, "Well, first I take the clamp off".
He played "I'm Using My Bible for a Road Map" in A without a clamp and it
sounded exactly like he had a clamp on. Don never used a clamp when he played.
He played the guitar without a clamp too. He could play in any key without using
a clamp. I think that is why Don never got as much recognition as Earl because he
played without a clamp and other musicians couldn't copy him. Don was one of
the greatest musicians in Bluegrass. He was a super great musician and wrote
many great songs.
Chubby Wise was a super great musician too. There is no mistaking that sweet
rich sound of Chubby's fiddling. There probably isn't a Bluegrass or Country
fiddler who hasn't played the tune he wrote back in 1934, "The Orange Blossom
Special".
When recording Pistol Packin Mama, we just went into the studio and played
the way we wanted. When the LP came out, it sold about 25,000 copies
in about a week. Garcia's name and David Nelson's name on the album had
a lot to do with that... with the record selling so well. A lot of Dead Heads
and New Rider fans bought the album. For most of them, it was their first
exposure to Bluegrass. I am happy that they got to hear such greats as Don Reno
and Chubby Wise as their first Bluegrass because it made a lot of new fans for
Bluegrass music. Most of the Dead and New Rider fans who bought the LP
probably didn't think they were getting a Bluegrass album. They bought the
album because Garcia and David were on it and they were popular with them.
They accidentally found out how good Bluegrass music can be.
The record wasn't out long when some legal complications over money developed.
As good as Pistol was selling, United Artists took the record off the market.
For awhile after that the album was showing up in cut-out bins in record stores
for about $1.99. Grateful Dead records sold us their entire stock of CDs
a while back and we now sell them, but when they are gone, they
will be gone for good.
And that is the story behind the album, "Pistol Packin Mama".
Frank Wakefield

The Frank Wakefield Official web site
( From Nov. 18th, 1997 to May 14th, 2007 )
Click Here To Return To Bluegrass Menu Page

CLICK HERE TO: Return To PHOTO Page Listings

CLICK HERE TO: Return To The INTERVIEW Listings

http://www.candlewater.com/BlueberryRecords/FWDVDSeries/
Sleeping Lady Turkey In The Straw, Walkin' In My Sleep, Catnip, Moonlight Waltz,
Bluegrass Swing, The Old Mountaineer, Call Of The Shepherd,
Little Rabbit, Cruel Willie, Cotton Eyed Joe, Salt Creek,
Carol County Blues, Sleeping Lady, Midnight At Bean Blossom


Again, your comments and suggestions are encouraged.
BOOKMARK THIS SITE ! ...then get on the email list
Newsletter Opt-In Email (Click Here)
Click Here To Return The Jim Moss Bluegrass & Swing Fiddle web site.
All Rights Owned by Mossware LLC.
Any use of these materials must be approved of in advance and in writing.