Frank Wakefield Meets Jerry Garcia, Part I
"Scroll Down"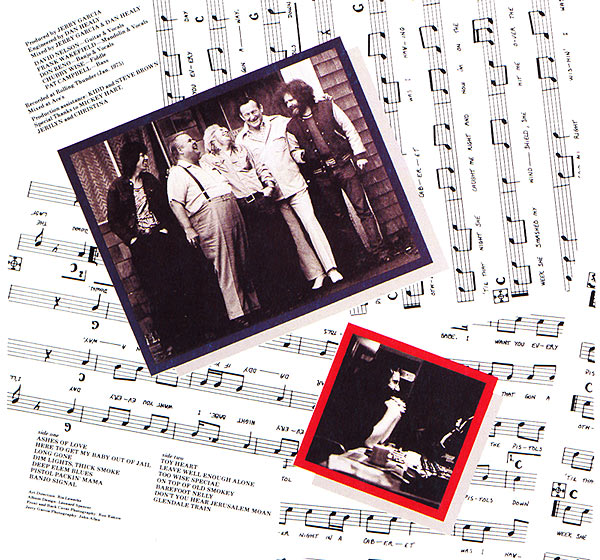 Pistol Packin Mama 1975.
LtoR (top): Pat Campbell, Chubby Wise, Frank Wakefield, Don Reno, David Nelson
(bottom): Jerry Garcia at the mixing console.
Photo by Jim Moss
Rumors, Stories, & Interviews

Let me know you what you think or send in a story, or if you would like to order this CD,
click here to email me-> Newsletter Opt-In Email (Click Here)



Read About
The Frank Wakefield
ULTRA CLEAR DVD LESSON SERIES
http://www.candlewater.com/BlueberryRecords/FWDVDSeries/




Frank Wakefield on Recording Bluegrass with Jerry Garcia, by Jim Moss
Part 1

One night in 1975 at Paul's Saloon in San Francisco, a jam night as I remember, musicians were standing
around getting ready to put together a pickup band and jump up on stage to play a few songs. At the time
this was how musicians kept in shape and how bands were formed. I seem to remember this was how
the Phantoms of the Opry, the Good Old Persons, and the Done Gone band first got together. Paul's was
an incubator for SF Bay Area bands. Paul himself was very difficult... to say the least.
On this night things would be different. In through the swinging doors came Frank Wakefield, Don Reno
Jerry Garcia, Pat Campbell and David Nelson. What a buzz in that place that night. They went to the
back room, the warm up room. Before long all but Garcia had left for the stage where they would
perform 2 sets. Some of us hung back in the warm up room to see up close what kind of a Bluegrass guy
Garcia was. Garcia sat there with his banjo around his neck. Robbie McDonald the banjo player for
the Phantoms of the Opry in true gun fighter fashion blasted off a tune in a fiery fashion. This was clearly
a challenge to a big time rocker! A big time rocker with a missing finger on his right hand at that!
What would happen next? Well, Jerry Garcia simply looked at Robbie and said, "nice playing".
I would go on to meet Garcia several more times at different places in California only to see the
same unpretentious character who each time seemed interested in any Bluegrassers that might be there.
Jerry Garcia actually was a member of the Good Ol' Boys on several occasions. I have heard the
live tapes from at least one of these shows. Maybe Frank will find a record company to invest
and put these out for all to hear someday. I know that Frank has said that he would like to find
some photos of them playing together in that band someday. I know that Paul of Paul's Saloon
took pictures of that night in 1975, but who knows what ever happened to him after he shut down Paul's.
Jim Moss (8-27-2006)

Frank Wakefield: In 1975 David Nelson, Don Reno, Chubby Wise, and Jerry Garcia made an album
out in California. That record sort of came about on the spur of the moment. I was out in Marin County,
in Northern California staying at David Nelson's house and doing shows with his band, The New Riders
Of The Purple Sage. Me and David... and Jerry Garcia of the Grateful Dead, were also doing some shows
together. When we did shows David would play guitar and Jerry played banjo.
David and Jerry started out playing music together in a Bluegrass band before they got into Country Rock
and they both really loved Bluegrass music. Whenever Garcia played with me and David, we would
always have a full house. I thought it was because of me. I never had heard of Garcia or the Grateful Dead
before. It took me a while to realize that people were coming to the shows because Jerry was playing
with us. When we played shows together we played acoustic. I didn't know any of the Grateful Dead's music
and the fact is I still don't. The audience that was coming to see us was mostly Grateful Dead fans. Most of them
had never heard Bluegrass music before, but they really loved it when they heard it. Both Jerry Garcia
and David Nelson helped create a lot of Bluegrass fans. I still meet fans who say that they first heard
Bluegrass back when we were doing those shows with Garcia and David in the Good Ol Boys back east
in 1976 and 1977.
The way the Pistol Packin' Mama album came about was me and David were sitting around talking
when I told David I'd like to do a record of me and him with Don Reno and Chubby Wise. First, David
thought I was kidding. When he realized that I was serious he said, "Boy, I would love too, but that
you could never get to talk to people like Don Reno and Chubby Wise". I had already recorded
with Don and Chubby back in 1959, so I said to David, "Why don't we call them, but first lets
go talk to Ron Rakow. Rakow was the fella who ran Round Records, the Grateful Dead's record
company. So we went over to Ron's office to talk to him and he was really interested after I told
him that Chubby and Don were some of the original people in Bluegrass. Ron had actually never
heard of them. Ron asked me how much I thought it would cost to do the record. I said, "Oh,
maybe three or four hundred dollars." David looked at me kinda funny and said "Frank, it will
cost more than that". Then Ron Rakow said, "You'd have to have at least five thousand
to start off with." That sounded good to me so I said, "Well, I ain't gonna argue with that".
Then Ron asked me who would I like to have produce the album? At that time I still didn't
know Jerry's last name even though I had played with him about five times. So I didn't
think about having Garcia produce the record. I thought we might have John Dawson from
the New Riders produce the record, I did know his name. Then later that day Ron called
me and David and asked how about having Jerry Garcia produce the record?
I said "who?". The guy who has been playing banjo with you. I told him that that sounded
fine with me because "he's alright".
So, after that, I called Don Reno. I talked to him for a few minutes and asked him
if he wanted to come to California to do a record. Then I told him that David wanted
to talk to him. Don said, "David who?". I told him David Nelson from the New Riders
of the Purple Sage. I am not sure if Don knew who they were or not, but I handed
the phone to David. David held the phone for a long time and said nothing. I said, David,
is Don still on the phone? Did you get cut off? Finally, David said, "Hh Hello?, Don, Don Reno?"
Dave kept stuttering, "I can't believe I'm talking with you." After a while David
calmed down. He and Don talked for awhile then I got back on the phone and asked
Don what he would have to have to do the record. Don said, "what could you pay me?"
I said about $800 plus a round trip ticket and a plane ticket for his banjo. He would
also get a hotel room. Don said "That sounds good to me. When do you want to do it".
When I called Chubby it went exactly the same way. Again, David was speechless to
talk to Chubby also.
In a few days Don flew out and me, David and Garcia picked him up at the airport.
Chubby wouldn't ride in a plane. So he drove out from Texas in his Cadillac. it took
Chubby about a week to drive to California, but he got there. We went into the
studio and I would call off a song and we would do it. David and Garcia knew all
the old Bluegrass songs. Don practiced with us for about an hour before we recorded.
Chubby got to California the night before we were going into the studio. Chubby
didn't get a chance to practice with us at all.
We were in the studio a total of 12 hours, two days, 6 hours each day. We recorded
about 28 songs in those 12 hours. We did "Leave Well Enough Alone" twice. That was
a song I had wrote and forgot. Garcia suggested we do it. Jerry had to tell me
the words. Don was suppose to sing baritone on it, but he had never heard it before.
Don couldn't remember the words so Garcia came out from the control room and
did the baritone with us on it.
I decided on the name for the album. Pistol Packin' Mama sounded like a good
name for an album. We put four of Don's songs on the album, Banjo Signal,
Barefoot Nellie, Don't You Hear Jerusalem Moan and Long Gone. Don sang
lead on the vocals he wrote. We put an instrumental of Chubby's on the record too.
Chubby didn't have a name for the tune. I always called him Chubby Too Wise,
so I said, "Why don't we call it the Too Wise Special?". Well, that really tickled
Chubby. When Chubby would start laughing with that big laugh of his, it would
start his belly to shakin all around. He said, "That sounds mighty fine Little Frankie!"
Chubby would always call me "Little Frankie".
----------------------------- To be continued

The Frank Wakefield Official web site
( From Nov. 18th, 1997 to May 14th, 2007 )

Click Here To Return To Bluegrass Menu Page


CLICK HERE TO: Return To PHOTO Page Listings

CLICK HERE TO: Return To The INTERVIEW Listings

http://www.candlewater.com/BlueberryRecords/FWDVDSeries/
Sleeping Lady Turkey In The Straw, Walkin' In My Sleep, Catnip, Moonlight Waltz,
Bluegrass Swing, The Old Mountaineer, Call Of The Shepherd,
Little Rabbit, Cruel Willie, Cotton Eyed Joe, Salt Creek,
Carol County Blues, Sleeping Lady, Midnight At Bean Blossom



Again, your comments and suggestions are encouraged.
BOOKMARK THIS SITE ! ...then get on the email list
Newsletter Opt-In Email (Click Here)
Click Here To Return The Jim Moss Bluegrass & Swing Fiddle web site.

All Rights Owned by Mossware LLC.
Any use of these materials must be approved of in advance and in writing.