"Scroll Down"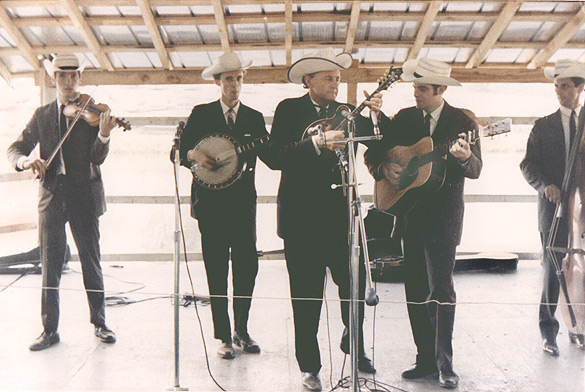 Bill Monroe and the Bluegrass Boys 1966.
LtoR (top): Richard Greene, Lamar Grier, Bill Monroe, Bill Monroe, Peter Rowan
and James Monroe.
Photograph by Dixon Smith
Rumors, Stories, & Interviews


Let me know you what you think or send in a story, double click -> Newsletter Opt-In Email (Click Here)



Bluegrass Boy Lamar Grier talks...
about his time with Bill Monroe, Part 1. (posted 5-12-05)
Of course, anyone familiar with the album Bluegrass Time will remember what
was to many the most Avant Guard band Bill Monroe would ever have, forgetting for
a minute that Bluegrass itself was at one point in the 1940's Avant Guard.
The band that would record "Pretty Fair Maiden in the Garden" and others was
very different from the bands that preceded it. This band has been called, "Wild" by other
Bluegrass Boys who I have spoke with over the past 35 years, often accompanied by
rolling eyes and raised eyebrows. It was, however, never said without plenty of respect for
technical capability. Lamar Grier was part of that band, he played the banjo.
Among the live shows that readers should find and listen to are the recordings made
at the Gas Light in NYC or the Bean Blossom shows. Also from this time there are recordings
of Monroe on the bus teaching Richard Greene how to play instrumentals to be used in the shows.
The following interview is the product of an exchange of emails that continues at the time of this posting.
Jim Moss
Lamar Grier: Jim, It seems a couple of years or so ago I perused your website and saw a music download
of a Monroe performance when I was a band member. It was 1965 or 1966 from a club in Greenwich Village
in NYC called the Gaslight Club. As I recall, we played there for 5 consecutive nights & stayed at Ralph Rinzler's
a block or so away. At the time I saw that you had it listed & I wanted to download it, but saw that it was in a
format that I could not handle. Is it available in a MP3 format available for download? I'd be interested in hearing it,
and adding it to my collection of music that I made with Bill. I also remember playing in that club with Bill where
he called Frank Wakefield up on stage with him and also Bill playing Frank's mandolin on stage. There was some
humor in that. I also played & recorded some with Frank here in the D.C. area when he was active with Red Allen era.
I also was playing banjo with Bill when Red auditioned for Bill & went out on the road with him in 1967 for a show date
or two to replace the guitar player when Pete Rowan left the band. I was also with the Bluegrass Boys at
the 1965 first Bluegrass Festival in Roanoke (Fincastle) VA. which you have the "program" listed on your web site.
Jim Moss: Yes, Frank has a very similar Loyd Loar to Bill's, but it was probably red or something..
The tape that I have is with Richard Greene on the fiddle and you were playing banjo.
Lamar Grier: I was in the band when Richard joined on, & I was there after Richard left, so everything
with Richard had me on the banjo.
Jim Moss: I have some live shows from the opry too. Richard said he thought your wife had recorded them.
Lamar Grier: Yes. Both my wife and son David, aged 6 yrs. old at the time, recorded when we went on
the air on the Opry. Before I left my house for the Opry, we knew the time segments that we'd be on.
Prior to joining the Bluegrass boys, I did have a great interest in two people; Earl Scruggs (still do), and
Clarence White. I deliberately tried to incorporate some of Clarence's timing into my music too. It didn't
always turn out right, but I always played off the top of my head, as did Richard & Pete Rowan. When I
was first with Bill, he mentioned to someone that he didn't know if my music was in time or not. In one
way I took that as a compliment, but also I got the general drift that I should try more to adhere to
the norms of the time...
As time went along, I felt that Bill definitely was a fiddle person. Not a banjo person at all.
Another interesting tidbit; his instrumentals were mostly fiddle tunes, and a few mandolin tunes.
The first, and only, banjo instrumental Bill wrote was for me. When he mentioned that he was going
to write me a banjo tune, I was pretty excited thinking that another type of Bluegrass Breakdown was
going to be forthcoming. But alas, it was a pretty slow Crossing the Cumberlands. He said that I had
pretty slides. But I ended up not liking it too much because it was very slow & difficult to play.
I didn't feel much reward from playing that tune. I left the band in late summer of 1967 and the
next banjo player Vic Jordan recorded it with Bill, and Vic told me that Bill told him that the tune
was Lamar's song. I showed Vic and a few others how Bill showed me, but none were able to
duplicate it the way Bill approved of me playing it. However Bill did record it with Vic even
though it was different.
Jim Moss: Are you playing much these days?
Lamar Grier: No - I in essence haven't played since 1985. Thirty years ago now. The music of today
doesn't build the fire under me that it once did like the Monroe, Flatt & Scruggs, Chubby Wise combo.
Most of today's banjo players seem to play a more sterile form of music. They learn a break to a song
& execute it the same way every time they do it. All of the Bluegrass founders like Monroe, F&S,
Stanley Bros, Reno & Smiley did each song differently each time I heard them play. I can listen to
Earl's playing live shows all day long mainly because every time he took a break in a song, it was different.
Usually right hand subtle tricks. Earl told me once that he felt that he was a "right-hand man" and I agree.
Later reflecting on his statement I felt that Don Reno was an example of a "left hand man".
Jim Moss: Yeah, the old school of Bluegrass and Jazz. That is how we do it. We know the melodies
and we know the style and what crosses the line, so we just go for it each time.
How about doing an interview with me for the web site?
Lamar Grier: I generally don't like to get involved with that because of many negative end results that
have come from it. I enjoyed being a side man - most enjoyment came from playing back-up.
Secondly was taking breaks in vocal songs. Lastly was playing deliberate banjo tunes. I had opportunities
to record albums/CDs but turned them down every time. That wasn't my goal to have albums of my own,
which I recognize isn't the general thinking of most others. I'm more content with being in the background.
Maybe in that regard I followed Rudy Lyle too closely. (And he's another right hand man.)
Jim Moss: You did this octave thing on Rawhide... that was very cool.
Lamar Grier: I can't think of what you're mentioning. Wait...was it in the last break where I walk one note
at a time up the neck just before the ending with some timing differences thrown in? I know that was one
pattern I did almost every time we did that song. Ya know, that song was played on about every show we did.
Jim Moss: I think that break is hot.
Lamar Grier: Like I mentioned, I had been playing banjo with local bands (Allen & Wakefield as
one example, Buzz Busby as another) for about 10 or more years when I went with Monroe.
One important lesson I learned from him was about fiddle playing. Up until that point I had been
focused mainly on banjo players and not fiddlers, mandolin players, or other side men's activities.
I felt that I had my hands full just doing my own job - that being a supporting banjo player for the group.
My Monroe tenure certainly opened my eyes to fiddle playing. One thing Bill mentioned to me was that
all of his music, every song, could be handled by a fiddle but not a banjo. He of course was right.
Of course the mandolin aspect was not offered, except one time. He mentioned that of all of the
Opry members he was the only one that could sing well & play their instrument well. He gave the
comparison of Ira Louvin. Ira could sing, but not play the mandolin that impressively. Again Bill was right,
but it was Bill picking & choosing his comparisons.

When I went with Bill, I had every recording that he had made, knew them, and how they "should" be
played (duplicated). When Richard went with Bill, he never even had seen a photograph of Bill. Richard
pictured Bill as a small meek little man that sang high & just happened to play the mandolin.
What an mis-interpretation!

There were good - even excellent times with Bill, but there were likewise very down moments,
like traveling through sub freezing weather with no heater in the car, and later one small heater outlet
for the whole bus. The only thing that worked on the dashboard of that 1948 flexible was the
tachometer & starter button. There seemed to be tons of wires hanging down from the dash where
previous Bluegrass boys had attempted to fix or improve the bus & its condition. Look at that end result!
There was no maintenance done on that bus until it was required it to keep motivating.
Jim Moss: I had frozen a few times myself driving out there in the desert at night.
Lamar Grier: I had my frozen times in the wintertime - in Canada, again in northern Virginia. In Canada,
the hotel where we stayed kept their rooms set with a master thermostat to 50°. When the lack of heat
happened in the bus, I was not grinning...too busy chattering balled up in the fetal position knot wrapped up
in newspapers and the sleeping bag I always had on my bunk. Oh - - - they were the (alleged) good times.
And the money...just falling out of my pockets (a hole in my pocket where all my change went.)
Speaking of money, I also remember the time when we came back to Nashville & Bill was standing outside of the
bus windows arguing with Virginia Stauffer (ya know - Virginia Darlin' & the author of The Old, Old House) where
she wanted $5.00 to buy a used clothes iron from Goodwill. That argument with her went on for at least 15 minutes.
Too funny.
Jim Moss: I have one thing to say to you, Hair Drier! We had a motel like that in Portland OR once.
It was freezing in the rooms and the idiot desk clerk came out to the room and just said, "its on", then looked at me.
I found that my 1800 watt hair drier worked just great to bring the room temperature from 45 f to 80 f in about an hour.
Monroe's band wasn't making much money at that time, right?
Did you get to play very often?
Lamar Grier: When I first was with Bill, we made on each show date $25. That was the musicians union rate.
A year later it went up to $30. The next year it went to $33 per show/day. How's them apples? I've heard of
previous Bluegrass Boys saying that when living in Nashville, they were housed in the YMCA where they
had a room. Then they had to call Bill on the phone daily to get enough money from him to get the days
needs for meals - like $5. I had to get a part time job when we were back in Nashville for the days when
we weren't on the road to pay the ongoing bills like rent & food needs for my family. Jimmy Martin found me
a part time job at a convenience store working overnight for minimum pay at the time, just to acquire family needs.
Needless to say, things markedly improved financially when I left & went back home to Maryland.
I had a home there that I rented out while I was in Nashville & then moved back into that home
when I returned there. I still live in that home. I soon got a job with IBM and stayed with them for
about 17 years then got a better paying job in the U.S. Govt. until I retired in 1998. However, I think
I would do the same thing again under those similar conditions. We did have what I consider one
of Bill's better bands with Pete Rowan & Richard Greene. Within a short time I come to disrespect
Jimmy Monroe & thought of him as an acquaintance, and not a friend...like the other band members.
Jim Moss: Are you saying that you thought of James Monroe and the other band members
as acquaintances? Or that you all thought of James as an acquaintance?
Lamar Grier: Yes, I can see the ambiguity in my sentence. To clarify, I did not care for the spoiled Jimmy Monroe
& avoided him whenever possible. The other band members were comfortable to deal with and associate
with even when we got home into Nashville. The balance of us (minus Bill) would hang out & sometimes
get together & pick amongst ourselves. I felt that Richard practiced heavily, going over fiddle breaks
& fiddle tunes Monroe would call on him to do, working on bow patterns at night time with the lights out
& a cigarette burning between his right-hand fingers, then watching his bow pattern in a mirror.
I, by comparison, didn't practice. I rarely sat down to work out breaks, but I'd sit down & just play anything -
that was in the general Bluegrass song bag. I did not even attempt to play newer & off the wall "contemporary"
songs like the ones of Don Reno or melodically handled tunes.
No - I feel that Jimmy was a loner...by his own design.
Jim Moss: The money hadn't changed that much by 1984. He paid a bass player I got for him $80 for a show.
He got $8,000 for the show.
Lamar Grier: I also heard the in the early 1960s, Bill had a booker that got him jobs in N.C. for $60 shows.
Bill would have to pack up the band & take the bus to N.C. to fulfill the contract. Then too, Pete Rowan
booked Bill to stay over an extra day in Montreal for $65. That's less than Bill's cost of just paying the band.
I don't know what the two day total was but Bill verbally jumped all over Pete for that action.
Jim Moss: What did you do for IBM? I always say, "Just remember, the first three letters of IBMA are IBM!".
Lamar Grier: Now, did you present that in a condescending way?
Back to IBM, like I say, I worked there for a decade & 1/2 and liked it. I thought they had overall
good management. Their managers seemed as "people persons". Of course there were exceptions
but when the word of mouth got out about poorly thought of managers, they mysteriously got transferred
to some other location with a desk job. I did well at IBM and rose thru their ranks more quickly than
their guidelines recommend. I started out in their Office Products Division repairing typewriters, ya know,
the ones that had little golf balls as their printing device that struck the paper. They had a training class in
Phila PA and with a class of 25 or so, I was the pack leader at the end. That was determined by
inspections of the machines at the end and taking off points for any components not installed/adjusted
to within specifications. I recall I got a 96 because one little "C" clip was missing from my machine,
but that was because my machine was delivered to me with that clip missing so I never missed it.
Anyhow, in a few successful years, I was trained on magnetic media typewriters, then on to large
stand alone word processors, then to small computers, and at the end I was in a software troubleshooting
group finding problems that were reported by customers in the operating system of the largest IBM 360/370
computer at the time. My commute time was up to an hour & a half daily, one way. That was growing
to be a bummer. So I heard of an opportunity to get a job 15 minutes away from home, paying
more money, for the U.S. Govt. After 9 to 10 months of a background check by the FBI & others,
I was hired. It was the kind of job that I can't tell you what it was unless I kill you afterward.
I'm not even supposed to disclose the Department or Agency, unless I get written pre-approval
from the Govt. for each specific case. A minor inconvenience. But it was interesting & fun. But the
management was poor! Especially seeing the contrast from my previous job with IBM. I was working
amidst all of the others that had masters & Phd degrees. Here I was a high school graduate with
a few classes I took at nearby University of Maryland in English, math, & software programming.
I had taken them years earlier & just took them for my own curiosity. But anyhow, these guys I
was now working with seemed super sharp to me, or by my standards. I really started to feel
inadequate in their presence. That was an important part of the reason that I retired, rather than
hang in there like many others.
Jim Moss: Who is the bass player on photo 17 at this site? (Roger Mason: thanks to Brian Crofton 11-25-2005)
http://www.candlewater.com/the70s/
Lamar Grier: I don't know. Did you know that Tex Logan (in that photo) had a Phd in math from MIT?
Was employed at Bell Labs? I was around Tex at his home one time when I asked him what he was
working on, with is slide rule. He said that he was working on solving the largest flat solid shape that
could horizontally fit down a hallway that had a one width, make a 90° turn and continue. I found out his
answer, but let me tell you it wasn't square and it was larger than a 1 x 1 square. Significantly!
Again, I could not have figured it out, even to the degree or precision that Tex did. Nor can I validate it.
Jim Moss: Did you ever record with Monroe?
Lamar Grier: Yes - with Pete, Richard, & you know who playing bass. Album titled Bluegrass Time.
We recorded it in 3 sessions, in the Columbia studios on 18th Ave (music city row) in Gnashville.
Soon after finishing, Pete quit, then a couple of weeks later Richard quit. After Richard told Bill backstage
at the Opry, Bill came storming back into the dressing room glaring at me and asking, "Are you gonna quit next?"
I hemmed & hawed & looked at the floor.

Both of them quit to start the rock & roll band Earth Opera. That folded then they started another
rock & roll group Seatrain. That too folded. Pete went on to record with his brothers, recorded
some Irish album, praised Italian music, made some of his albums with a Mexican Accordion,
recorded some off the wall stuff with some eastern European group, ad.nauseam. Now they both
look back on Bluegrass as to what gave notoriety, so they talk that venue up as wonnerful.
What would have been their tone had anything else succeeded?

You talk highly of Kenny Baker, but my today's favorite is Bobby Hicks. Kenny's breaks in
Uncle Pen for example seem to me to be duplications of breaks he had done dozens of times
before - seemed to tire my ears. Kenny is a little too sweet & predictable, even tho Monroe
called him the greatest fiddle player Bluegrass has ever seen. Some of Bobby's licks pull me right to
the front of my chair - in his back-up especially. Bill even talked up Rudy Lyle to me a few times,
so I had to tell Bill one major shortcoming of Rudy's. Bill listened & said nothing. I feel that overall
Bill could not judge banjo players well, but Rudy was excellent.
Jim Moss: I am partial to Baker's playing. He has been a great friend and mentor to me.
To me, 1970's Kenny Baker was the killer sound.
So, do you get asked for interviews regarding your work at IBM or the whatever agency much?
Lamar Grier: Not at all. But that's all right.
Jim Moss: I think when you look back, at the end, you will remember your time with Monroe, not the years at IBM.
Lamar Grier: I remember both & consider both to be places I'm glad to have been. One thing that
does distress me tho is the funeral turnout for Tammy Wynette had people lined around the block
of the Ryman Auditorium. Monroe's only filled the Ryman. I went to Bill's there and to his grave
site in Rosine, but is that an indicator of who was more important? I don't think so. I definitely
think Bill added more to country music than Tammy - of course not record sales or bouffant
blonde hair styles. Did you know that Earl Scruggs bought the million dollar plus home of Tammy's,
and moved from his long held home in Madison.
Jim Moss: I think it is a place where you can put your name down in history.
Lamar Grier: What's that old expression, "that & $0.10 could buy you a cup of something." Like...so what?
I'm not looking to have people mount my picture above their hearths. Let Einstein have it. There are kajillions
of musicians that have participated in making music listenable to the hoards & others to the individual musician
as well. Who's makes these value judgements?
Jim Moss: Welcome to cult music forms! Less is more and all that.
In the 1960's, and I am 53 right now, we use to have a few sayings:
1) never trust anyone over 30
2) if it makes it to AM radio, it is not music.
I still believe in both, but 30 is not 30, but 30 older than me, although in many cases that has changed too,
but one cannot just count on that. What this means is that people who were 30 at that time were the product
of a time when they trusted their parents, the government, the social norms.

I like to think that my generation began to question the truth and value of all things. This in fact, was
what allowed many of us to even give alternate musics a listen, such as Bluegrass. My parents, would
never get past Frank Sanatra or the Nashville Sound. To me, the Nashville Sound is like what
communism was to them. The Nashville Sound is like what Madonna is to Rock and Roll.
Monroe on the other hand is more like a Jimi Hendrix figure. These are really interesting artists
who have a sound that they hear and want to put together, a sound that will out last all contemporary efforts.

The Kids, they know. The answer to your question of who is judging. The kids who come
along in the future will be able to seek out good music. I play music for my own-self, but do
it in public and try to make a little money doing it. I have my degree in Marketing and know
a thing or two about marketing niche products, such as non mainstream music.

I remember the moment in 1969 when I listened to this 1950's Lefty Frezel 78 rpm
that I have here. The song was "If You Got The Money". I listened to that and his little acoustic
band banging that tune out, and there was this fiddler who just was as clean as you can imagine.
I remember thinking, if I could impress some kid as much as this guy, who was probably dead by
then, as much as he had just impressed me, then I would be a success. This fiddler had contributed
to the culture of the country and the world in just recording this break. He probably starved to death,
but here I was a young kid 20 years later being blown away by this cool break. Success.
Money is not success at this level, it is something more important.
Like George Burns said in the movie Oh God, "If you want to make money, sell earth shoes".
I guess what that means to me is, you can do what you love and make money, but maybe
not as much as if you totally sold out and played stuff you couldn't stand to listen to.

Lamar Grier: Mom & Dad's Waltz jumps to my mind too.
Jim Moss: How did you start playing with Bill?
Lamar Grier: In the early 1960s, I lived in a Washington D.C. suburb in Maryland. It seemed
that every weekend there would be a music party at one of about 1/2 dozen different people's home.
I went to a lot of them. After a few years, notoriety of these parties got around and got up to
Cambridge Mass. Bill Keith & Pete Rowan heard about them and come down to D.C. to one of them.

About a year or so later I went to see Monroe at Sunset Park in Oxford Penna. Pete was
then playing guitar with Bill and they had a left handed banjo player, Don Lineburger.
Pete asked me if I wanted to get up with Bill & do a song or two as a guest. I remember
that I didn't want to because I wasn't dressed for that occasion. I was wearing a Tee shirt
that had a fairly large BMW logo on the front. I told Pete that, & he said, "No problem".
He got one of his shirts from the bus & loaned it to me - so all systems were go.
Bill called me up, asked me what I wanted to do & I think I said Bluegrass Breakdown,
and I pretty well burned it up. I heard later that Bill was standing behind & beside me
and was smiling about the whole situation. The next tune Bill called and it was John Henry,
which was another tune I was comfortable doing at a rapid clip. I did my end of the job well because
I had heard Bill do these songs live on previous show dates. At the end of the day I went home,
as usual. About a month or two later Pete called me at home and said that Bill's banjo player
had just quit & asked if I wanted to go & join on with the Bluegrass Boys. Well, I had
a day job that I had for about 9 years and I was really reluctant to go with him, partially
because I had heard some pretty bad stories of Bill's paying his band members. I was married
with two children, David and his younger sister who was about a 1/2 year old.
I spoke with Pete later and he asked if I would come with them for a couple of show
dates that would be in my general area. One date was in Roanoke and from there to
an Ohio outdoor park show on Sunday afternoon. I did those dates and soon
afterward told Pete & Bill that yes, I would quit my day job & give the music a try.
I understood what the pay would be, and I have to say that I received everything that
was due to me, and on time.

But there were some time lapses staying at home where I need some continuing income for
the family's needs, so I got a part time job. That job was found for me by Jimmy Martin in
the community where he lived, at a grocery store in Hermitage Hills (on the East side of Nashville).
When in town, I worked a few nights a week, on a overnight shift doing restocking of shelves,
mopping the floor, etc. In that same community, the elder Stonemans lived. Scott & Jack (brothers)
would come down to the store around 6:45 AM to wait for the store to open for business at 7.
Then they'd each come in & buy a quart of beer and go across the street into some woods to
enjoy their first beer of the day.

I also went hunting with Jimmy Martin one day with about 4 of his beagle type hunting dogs.
I only went one time. I almost didn't make thru that one day. Jimmy shot his shotgun toward
me trying to hit a rabbit. He missed me & the rabbit but the gravel between us sprayed up
into the air. I heard later that Jimmy had shot others before, accidently. I understood why. I didn't
want to be the next on Jimmy's hit-list. One of Jimmy's hunting dogs was named "Bessie", after
Bill's ex-girlfriend.

But anyhow, I digress. That's how I became one of the bluegrass Boys.
Jim Moss: Regarding "Bluegrass Time", I was not sure that was you on those recordings.
I knew it was Richard.
Lamar Grier: I was on all of the Monroe recordings with Richard.
Jim Moss: I like all three songs that made it to the album. I understand that you also recorded others
that didn't make it. How many songs total did you record in those sessions?
Lamar Grier: There were about 10 of the tunes we recorded on our only Decca/MCA album.
I think they all have been released now. I got a 4 CD set of Monroe's stuff, and all of our
recordings were on it..
Jim Moss: II don't remember how long you stayed with Monroe after Richard left?
I have those recordings from the Opry that are a good indicator. Peter, upon me asking why
he didn't play more Bluegrass, once told me "One thing you soon find out, the closer you get
to Bluegrass, the more you realize that it is just Bill Monroe". I think that is ridiculous.
Look at Del McCoury, for just one example. Some people are just so full of over blown rhetoric.
Bill has defined the boundaries, there is a lot of room to fill out that area without simply copying Monroe.
Lamar Grier: Pete does have readily available opinions, but that omits groups like, F&S,
Osborne Bros, Stanley Bros, Reno & Smiley, etc. So it wasn't as exclusive as Pete portends it to be.
Yup, that's a good example, Del is from a nearby community in Penna. He'd come down to Baltimore
quite a few times to play music with other people. Del is better today than he's ever been,
in my humble opinion.
Jim Moss: In 1983 or so I approached Del about playing in the band. I had sent him my first LP that
I had recorded with Jesse McReynolds, Bob Black and even a little Baker. Monroe speaks on the
intro of the CD version. I had been playing in a San Francisco band for 6 years and playing Bluegrass
for 13 years. Well, I was on the phone with Del and all things were GO. I was going to Texas
for my trial show. I asked if he provided rooms or... to which he explained that the band
slept in the bus. I said, "on the bus?". What about showers? He said that they would shower
in truck stops. "No rooms?", I said. To which he said, "maybe this is not your kind of band".
That was a fact, I thanked him. I have never been part of a band that did not sleep in a bed
most nights on the road. I manage the Frank Wakefield Band and we always have either a motel,
or we sleep at a friend of the band's house when they offer. When we sleep in the van it is because
we have no time to stop and we just pull over for an hour or so. That has only happened a
couple of times. Frank does not like me to book tours like that.

I have to say that Del was very nice to me. I just had never heard of such a thing at the time,
the bands I had played in had no where near the standing of his and we had rooms.
I have since, but I was just young...
Lamar Grier: There was a time, talking with Lester Flatt, that he remembered that when he was with Bill that
they had to play every Saturday night Opry. They always had to bolt back to Nashville on Saturdays.
Lester said, "Many's the time we left Nashville after the Opry for show dates and when they returned
the next Saturday, they'd never had their boots or sox off since they left Nashville a week ago."
How's them for sleeping arrangements?

We slept in the bus mainly, but it had some of the best bunks in da bidness. Bill bought the bus from
Johnny & Jack & they had it outfitted well. Thick inner-sprung mattresses, where F&S had a
thin foam pad on plywood for bunks. But like I mentioned, Bill had no maintenance done on the bus,
only the later repairs, which also led to being stranded sometimes on the road. I recall that we played in
Berkeley (near you) but enroute had more bus problems. Bill called ahead to alert them that
we would be arriving at the show date late. When we got there, there was a sign on the main door,
"Bill Monroe late because of Bluegrass Breakdown."
I got a chuckle out of the injected humor into their financially poor situation.
Jim Moss: What is the story with the death of Scotty Stoneman? I heard that he drank shaving lotion.
Also, did you see Scotty on other occasions?
Lamar Grier: Yes. As you may know, Scott also lived in a D.C. suburb in Maryland with his
parents at the time of the 50s & 60s. Yes I did play a few live shows with him, but he was one
of the small few people that I did not want to associate with. I did not respect his way of life.
I didn't hear about the shaving lotion thing, but he died in Hermitage Hills, Tenn walking along
a foot path to where he lived. He started coughing, fell down next to the path and gagged on
his vomit & choked to death. I don't know the state of his inebriation but it is assumed to be
that he was looped.

I recall seeing Scott backstage of the Opry & I told Scott that I thought he should have stayed
with the Kentucky Colonels. He told me that he didn't quit them, they quit him. Like it was his band,
or the star. Too bad for Scott. He had mentioned in a D.C. area fiddle contest that they didn't care
what they said about him as long as they mentioned his name in the process. People would remember that.
Like I have heard, Scott was good, but he had a relatively small bag of fiddle tricks to offer.

Scott, when he lived in Carmody Hills in MD, used to go at night down to the railroad tracks with his fiddle & try
to duplicate the train whistle noises. That sounds like Scott. They had an outhouse behind their house and
Scott & a brother went out there when their father was in there & turned the shed over.
Whatta swell thing to do to your father.
Jim Moss: So why did you stop playing Banjo? or did you?
Lamar Grier: Yes, for all practical purposes I let it go in 1985, 20 years ago. While I did make one or two stage
appearances since, they were disastrous. Because of this degeneration, I do not make stage appearances or
belong to a band anymore. I can see a small few reasons that I quit - some blame me and the rest blame others.

1) My quality, accuracy, timing were all starting to falter. I felt going downhill, and putting a strain on the
balance of the band members and it would be in my better interests. Because of these factors, my interest
in maintaining my proficiency began waning.

2) Bands were evolving into areas where I had less interest. Consider the era where I picked-up the
initial "spark" to play bluegrass...early 1948. The music in the 1980s was far afield from where it was prior.
Not that it is wrong, it's just that I had little interest in doing it. For a minor example; if a band's primary
mode-of-operation is to do pretty 3 part harmony Osborne Bros songs, I almost fall asleep.
Once in a while is fine - a song or two a set like that is fine with me mainly because it shows
contrast & flexibility of the band. Tell me, who today does duets, beside the folksy types?
It's all trios, quartets & more.

3) The music generation has changed. There's no more Bluegrass Breakdowns, Rawhides, Flint Hill Specials,
driving fiddle tunes, etc. A fiddle tune that was an irritant to me was Jerusalem Ridge. From what I hear,
that tune is one of the things that drove Kenny Baker away too.

4) Used to be a 5 piece band was a full Bluegrass band. Today take at a look at the Ricky Skaggs orchestra,
or even Ralph Stanley ensemble. I recall the time where the Stanley Bros were Carter & Ralph with
George Shuffler (perhaps Ralph Mayo or Chubby Anthony on occasion.)
The drummer on the Opry, Harold, use to say that Monroe's band didn't need drums - their timing was solid.
Now his snare drum has grown into a full blown array of different noise makers. That's grown to where he's
one of two duplicate drum set players. It's getting to be like country guitars where half the band strum
on guitars (but being blonde is an asset). Drums are slowly following suit. Did Bill Monroe's band
ever have a Dobro? Another try at diversification. Long drawn out sustained notes were taking away
from the fiddle & its double stops etc. I feel this maneuver weakened the structure or the musical organization.

That's it in the so-called nutshell. My Bluegrass peak was from the first Bluegrass Boys with Flatt & Scruggs & Wise,
up until around 1955 when Benny Martin left Flatt & Scruggs, with occasional later appearances by Rudy Lyle
with Bill. I saw him with Bill locally in Northern Virginia in 1960. That's the last time I saw Rudy. When I was
later living in Nashville, that is one of my biggest regrets was not going to see Rudy, who at the time was playing
electric guitar with a local band. That's okay, I could have sat down & talked with him during the breaks.
I missed that opportunity.
Jim Moss: Did you ever have a chance to meet Kenny Baker while you were a Bluegrass Boy?
Lamar Grier: As a post fact. We met musically on stage where there were a throng of Bluegrass boys called up on stage.
We played some standard song & I was standing in the back. At some point I got "out of time" with the
tune & had to stop playing to hear where the timing was then rejoin. I remember that foo-paah. Other than that,
there was no direct interaction with Kenny.
Jim Moss: Did you ever go work on Monroe's farm?
Lamar Grier: No. But Pete Rowan & I went from Nashville to Beanblossom to deliver hay into the barn
that was there. I remember when getting there that Bill went up into the top of the barn, at a second story
door opening, to receive bales of hay that Pete & I would hand up from Bill's stake bodied truck. I easily
succumbed to the physical energy of picking up those hay bales & throwing them up into the air so Bill could
grab them to stack them in the upper barn. Pete & I couldn't keep up with Bill's energy. Bill was telling us
to give him some more bales to work with & I was developing energy loss in that exercise. I felt "whooped"
when it was all over. Of course the whole ordeal from Nashville to Beanblossom & back was not financially
rewarding at all, but I later felt that we were kissing up to the boss. Not repeated (like that) again. But I don't
know if that was from our reluctance to redo that situation, or Bill's reluctance to call on us again to do
any physical labor.
Jim Moss: Did Birch chase you around the Bean Blossom park with a hatchet?
I think he did chase Bob Black... He chased one of the banjo players.
Lamar Grier: No. Birch was pretty laid back. Bill's sister, I forget her name right now, was
open & friendly toward me. Backstage of Beanblossom, I remember Pete asking Bill's
brother Charlie, "Why don't the two of you get up on stage & do some of the stuff you
have previously recorded together?" Charlie responded, "Boy! Do you want to start a fight?"

There were major conflicts & friction going on within that Monroe clan, all seeming to be caused or
emanating from Bill as the catalyst. But the other family members also would generate hostilities, but again,
with no consoling or resolution offers from Bill. Bill was an excellent musician, but there were other family
issues, and other issues, he had that I felt brought his life back into balance, and not a person whose life
one would want to duplicate.

There was a time where Bill was approached by a guy that said that he'd book Bill & guarantee
him 3 million a year. This booker said that it would cost Bill 1 million for his services, leaving Bill
with 2 million. Bill denied the offer because he felt that no one should be benefiting that much
from Bill's reputation, talent, & skills. So the bottom line is that Bill was out 2 million dollars.
What a typical Monroe business decision!
Jim Moss: Can you remember anything about the Bean Blossom Barn shows?
Lamar Grier: We didn't play in the barn at Bean Blossom. The barn was on the same grounds,
but there was another building across the dirt road from the barn where all of the performances were held,
and it also had a concession area in the rear of that performance building. The barn was only used
for storage of farm equipment and things like dozens of hay bales. When we played there, there was
only the storage barn and the other building where performances were held. Even the audience area
was under roof too. I don't know if you were there during that configuration, I have heard that it was
radically modified since I was there and I haven't been back there since to see the renovations.
----------------------------- To be continued


Click Here To Return To Bluegrass Menu Page


CLICK HERE TO: Return To PHOTO Page Listings

CLICK HERE TO: Return To The INTERVIEW Listings


Click Here! Visit Frank's Mandolin Lesson Page



Again, your comments and suggestions are encouraged.
BOOKMARK THIS SITE ! ...then get on the email list
Newsletter Opt-In Email (Click Here)
Click Here To Return The Jim Moss Bluegrass & Swing Fiddle web site.
All Rights Owned by Mossware LLC.
Any use of these materials must be approved of in advance and in writing.