The Frank Wakefield Band
Period Nov. 1997 to May 22, 2007
To receive the Bluegrass Newsletter:
To Send an Opt-In Email Click Here
Jim Moss Phone: 650-747-0748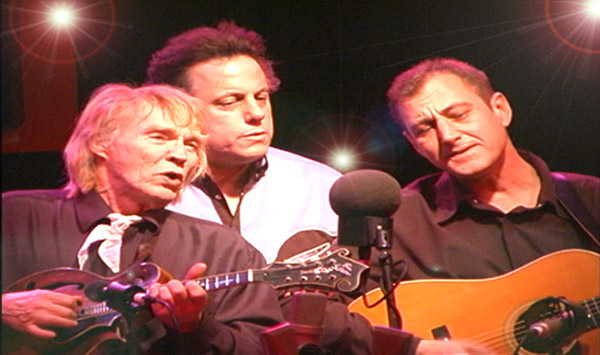 Frank Wakefield is a master musician whose incredible mandolin playing and unique vocals have graced the sound of
many top bluegrass bands, from Jimmy Martin to The Stanley Brothers. Frank's long partnership with Red Allen in their
famous band "The Kentuckians" gave us some of the best-loved classic sounds from the early days of Bluegrass. He
has also appeared with a wide array of bluegrass, country, and popular artists, including Don Reno, Chubby Wise,
David Grisman, Tony Trischka, Ricky Skaggs, Tony Rice, Peter Rowan, Don Stover, Bill Harrell, Del McCoury,
J.D Crowe, Bill Keith, Pete Wernick, Richard Greene, Joe Isaacs, Emmylou Harris, Joan Baez, Jerry Garcia,
The New Riders Of The Purple Sage, Leonard Bernstein and The Boston Pops Orchestra to mention a few.
Frank is heard on numerous recordings and has eight solo albums to his credit. His popular release, "The Kitchen Tapes"
has introduced an entire new generation of fans to his music. He has written over 40 songs, including the bluegrass classics
"New Camptown Races", "Mexican Stomp", "Catnip", "Bluegrass Band #1" and "Leave Well Enough Alone".
Frank Wakefield has twice performed his compositions at New York's Carnegie Hall. In 1999 Frank was nominated
for a Grammy as part of the Mandolin Extravaganza Album.

Bill Monroe, Bean Blossom 1976: "No one has come closer to my music than Frank Wakefield.
He is powerful musician."

David Grisman, Frets Magazine: "He split the Bluegrass mandolin atom. Some of us, obviously,
will never be the same again."

James Monroe, Adventures in Bluegrass III: "Frank's a good man. He is a friend. I think a lot of Frank
Wakefield, he is funny. He thought so much of my father's music that he patterned his own after it.
Frank really puts on a good show. We use to do a lot of shows together back in the old days.
So, its good to talk about Old Frank, I like him."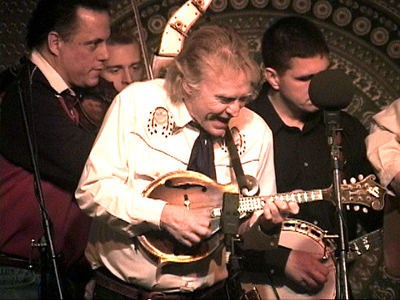 Larry Sparks, Adventures in Bluegrass I: "Frank Wakefield was big talk back in my part of the country. He use to
play around the Dayton and Cincinnati area a lot and he was, and still is, a FINE mandolin player. I got to meet him in
the late 60's when I was working with Ralph Stanley. Ralph had Frank come in and do an album with us called:
Bluegrass Sound. Frank did some fine fine mandolin playing. If you can get a hold of that album, do it. Frank has
always been one of my favorites. Audiences love Frank's shows."

Franklin Delano Roosevelt Wakefield is a legendary mandolinist and among the foremost original stylists in
Bluegrass. His 40 year career has delighted millions of fans throughout the entire world. He has composed over 40
songs and is heard on numerous recordings. Frank Wakefield has 8 albums to his credit.

Born in Emory Gap, Tennessee, Frank began playing the guitar at age 6. At age 16 he switched to mandolin, and in
partnership with his younger brother Ralph on guitar, he got his professional start. Performing as The Wakefield
Brothers on radio station WHIO in Dayton, Ohio, the duo specialized in old time and gospel music.

In 1952, Frank met legendary Bluegrass singer-guitarist Red Allen and subsequently toured with Red Allen and The
Blue Ridge Mountain Boys, performing at clubs and shows in Ohio and the upper Midwest and Bean Blossom over the
next 3 years.

From 1955 to 1957, Frank worked with the Detroit-based Chain Mountain Boys, and it was with this band that he cut
his first 45 RPM recordings on the Wayside label, including the now-classic Bluegrass standard "New Camptown
Races". Shortly thereafter, Frank joined Jimmy Martin and the Sunny Mountain Boys, touring nationally
with Jimmy until 1958.

From 1958 to 1964, Frank reunited with Red Allen to form Red Allen, Frank Wakefield and The Kentuckians. The
Kentuckians were frequent guests on WWVA's Wheeling Jamboree and also did a weekly radio program over radio
station WDON in Wheaton, Maryland. Following several popular 45 RPM recordings for the BMC and Starday
labels, The Kentuckians appeared at Carnegie Hall in September 1963. The next year they recorded the seminal
"Bluegrass" LP album on Folkways label now Smithsonian Folkways.

In 1964, Frank became the mandolinist for the very popular Greenbriar Boys, lending his considerable instrumental and
vocal abilities to their many successful albums and live performances. Frank played lineups with Blues legends such
as Son House, Lightnin' Hopkins, Yank Rachell, Bukka White.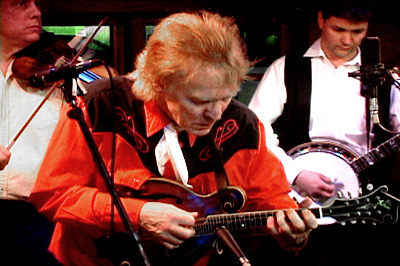 During this period Frank began to compose classical sonatas for the mandolin and arrange classical pieces for traditional
bluegrass instruments. These efforts led him to guest appearances with New York Philharmonic conductor Leonard
Bernstein in 1967, and a guest spot in 1968 with the Boston Pops Symphony Orchestra. His success in the classical
field notwithstanding, Frank continued to work with a host of Bluegrass artists throughout the late 1960's, including a
1968 album and appearances with Ralph Stanley and recordings with gospel and Bluegrass artists Joe Isaacs and
Richard Greene.

In 1972, Frank launched his solo career, using the up-and -coming New York Bluegrass group Country Cookin' to
back him on his first album for Rounder Records. Numerous live and television appearances followed, including an
appearance on The David Frost Show, and guest spots with Joan Baez, Don McLean, Oliver, and Don Everly.

Throughout 1973 and 1974, Frank toured widely with the country-rock band New Riders Of The Purple Sage and
multi-instrumentalist Jerry Garcia, and he also opened several shows forThe Grateful Dead.

In 1975, Frank released his second solo album, "The Good Ol Boys, Pistol Packin' Mama" featuring
Bluegrass giants Don Reno and Chubby Wise as well as New Riders' guitarist David Nelson
produced by Jerry Garcia. From this highly successful album came the idea of a new band,
Frank Wakefield and the Good Old Boys, which toured widely over the next 8 years and produced five albums
on the Rounder, Flying Fish, Bay, Tacoma, and Relix labels. Frank Wakefield moved to the San Francisco Bay Area
in 1976 where Jim Moss as part of High Country, first began working together with Frank as his band The Good Old Boys.


Frank's album, "The Kitchen Tapes" on the Acoustic Disk label, has sold over 200,000 copies to date.
It features Frank and Red Allen in a delightful 1963 practice session and has introduced an entire new generation
of fans to Frank and his excellent music. The response has been phenomenal.

In 1996, Frank recorded "That Was Then, This is Now". The Frank Wakefield Band has a series of performance
videos out called "Adventures In Bluegrass". They are available from www.candlewater.com along with other
recordings made over the years. Jim Moss and Frank Wakefield have collaborated on twelve CD's and DVDs,
"Sleeping Lady" for one has received high praise for both it's High Impact Mix and it's hard core Wakefield Bluegrass
sound.
In 1999, Frank Wakefield was nominated for a Grammy as part of the "Mandolin Extravaganza" album.
In 2005, Frank Wakefield can be heard on David Grisman's Acoustic Disk "Tone Poets" album.
Today, Frank Wakefield has completed very successful tours of Japan, Australia, Europe, England, Scotland,
Sweden, Canada and most cities in the United States. Frank Wakefield keeps active with live performances,
songwriting, recording, and now with Fiddler/Producer Jim Moss, movie-making.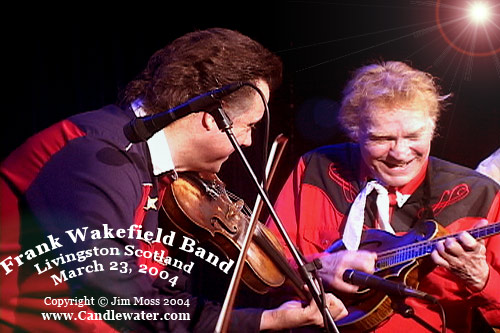 Frank Wakefield and Jim Moss have produced a fine DVD instructional series
called the Ultra Clear DVD Lesson Series that he markets from his official web site www.candlewater.com
The band also has their Adventures in Bluegrass DVD series which are performances DVDs which are
broadcast using streaming technology from www.candlewater.com.
Frank has a lesson series that he holds while on tour in addition when on the road and believes in
passing on to young players the techniques he has acquired over a lifetime.
The Frank Wakefield Band was managed by Jim Moss from Nov. 1997 to May 22, 2007.
See the Jim Moss message below.
To receive the Bluegrass Newsletter:
To Send an Opt-In Email Click Here

Click Here to Visit the Radio Promo Links
Click Here to Visit the Radio Promo Links
Click Here to Visit the Radio Promo Links

The Official Frank Wakefield Web Site
The Official Frank Wakefield Web Site
The Official Frank Wakefield Web Site
-------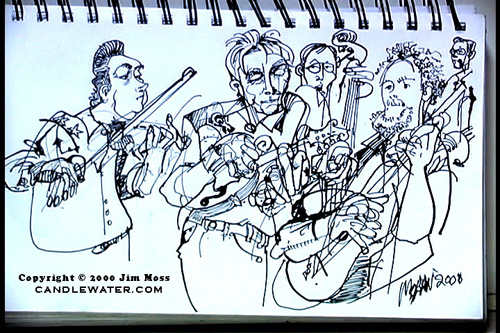 MOVING ON

I want to thank all of our friends and fans for your support during the time period of November 1997 to May 2007 in which I managed the Frank Wakefield Band as well as put the bands together. Things have been changing and I think it is a good time for me to move on to my new projects. I look forward to finishing the 2 or 3 CD projects that I recorded with Frank as well as a major video documentary project and one last Ultra Clear Lesson DVD. These are large projects that I started, but have not had the time to complete until now. They will be available from the www.Candlewater.com and this web site when they are done, just as the current CDs and DVDs are now. Both web sites will continue to be updated.

It was great to play music with Frank and I have many fond memories of our adventures. I have learned a lot from Frank Wakefield, our collaboration brought out my vocal talents. It was in 1997 that I hired Frank Wakefield for the mandolin part on my "Sleeping Lady" CD. I was looking for someone who would not clash with Bob Black, a melodic banjo player. I felt Frank Wakefield, would create a more textured sound, as did Jesse McReynolds on Tanyards, and not stick strictly to the melody.

At the end of those sessions both Frank and I realized that we were having a lot of fun. I proposed that I put a band together and soon after we started touring, or as he put it I "brought him out of retirement". The rest is history and is documented throughout this web site and in the Adventures in Bluegrass movies that I stream from this web site. I first worked with Frank Wakefield in 1976, but lost touch with him in the early 1980s. Things have been interesting and fun over these last ten years. We have had quite a run and I am very proud of our many accomplishments. That said, 1997 to 2007 is ten years and a long time for a continuous musical association. There are new projects and musical combinations for all of us to explore. I feel good that I have accomplished what I set out to do way back in 1997 which was to bring Frank back out on tour with a band that could play his own compositions. Having done that, Frank Wakefield and I have both decided we want to pursue our own solo careers at this point in time.

I am especially thankful to the musicians who worked with me to put The Frank Wakefield Band on the road. These musicians gave a lot and did a great job. They deserve real recognition for their contributions. I also want to express my thanks to our inner circle of friends and fans throughout the world who really worked hard and gave of themselves to make these musical adventures happen. You know who you are and we are forever in your debt.

Now it is on to the next projects, both recording and performance.
Jim Moss
Bluegrass Fiddler, Producer, Manager, Videographer
May 22, 2007
All Rights Owned by Mossware LLC.