Jim Moss

Scroll Down for more...

Tanyards
Bluegrass Instrumentals
with
Jim Moss: Fiddle
Jesse McReynolds: Mandolin
Bob Black: Banjo
Dave Thompson: Guitar
Roy Husky Jr: Bass

With Special Guest Fiddler Kenny Baker


Contact: Jim Moss
Route 2, Box 140
La Honda, CA 94020
Order Info Email: FWB@candlewater.com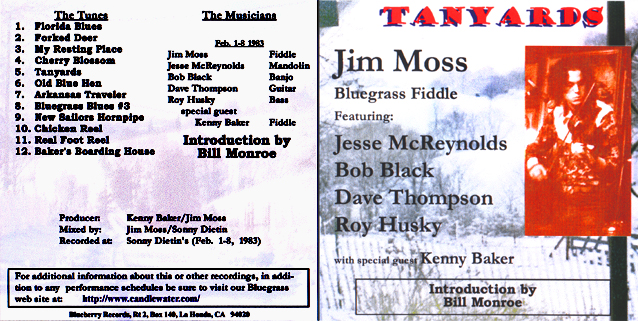 Florida Blues (Classic Bluegrass) mp3
From the Jim Moss 1983 Bluegrass Fiddle album "Tanyards"
with Bob Black: banjo, Jesse McReynolds: mandolin,
Dave Thompson: guitar & Roy Husky: bass.

Take a look at the Bob Black Banjo Tab pages.
Bob Black Banjo Tab Page
and take a look at these other Jim Moss / Frank Wakefield pages.
*The Frank Wakefield Radio Show, (A Walk Through History)
*Frank Wakefield Interview Page
*Frank Wakefield's Official Web Site
*Jim Moss / Frank Wakefield Top Page



Again, your comments and suggestions are encouraged.
BOOKMARK THIS SITE ! ...then get on the email list
Please comment: Double Click Here-> AudioLst@mossware.com to email us.
Click Here To Return To Main Page



All Rights Owned by Mossware LLC.