The Frank Wakefield Band,
Adventures in Bluegrass II
http://www.rentalfilm.com/rv12/
NEWS:
Random Notes: The band will begin its GO EAST Tour November 12th with the Canal Street Tavern show. Anyone interested in attending Frank Wakefield's group lesson in Dayton, Cleveland, WV, VA, CT, or NY is encouraged to contact Jim Moss at FWB@candlewater.com
This tour will find the band switching to Neumann KM184 mics for the mandolin and fiddle.
We are also switching to a great little shock mount made by a very industrious musician who's name is Gary Young. Now, some might think that we will be getting some free product for this mention, but this is not the case. It is not the case, because these Gary Young Shock Mounts are so cheap that it is not even worth the effort. The standard shock mount from Gary Young costs about $22 each. If it had cost the $280 or so dollars someone like Neumann charges for their star mount, then we would be talking... but what the heck is the point when the mount is so cheap. Gary designed a special edition for the Frank Wakefield Band. Special Costs? Try adding $5. Like I say, what is the point? We will report back on the actual performance of these mounts and if they fail to provide the expected isolation from stage noise, then you will hear about it. For us, we need a shock mount that will of course isolate the sound coming through the stand, but we also need something that will pack easy and take the rough treatment the airlines dish out in the baggage hold.
Also, we found that in tests in the studio that the KM184 was a little bit bright when close mic'ed to an instrument, however, after consulting with Martin Schneider of Neumann we found that if we simply used a windscreen that we could get a 2 db drop from 15 khz and above which made this mic sound pretty darn good. Martin pointed out that if we used the larger windscreen we could roll off 4 db from 15 khz and above. Everyone says that the KM184 is no KM84, the now discontinued transformer version of the same mic, but I have to say that with a little EQ it can sound pretty darn good. I would not trade in my U87 or any other large capsule mics just yet, but for the road I think this will provide the clarity along with that famous Neumann graininess sound.
So much for Tech Talk!
Frank Wakefield has written a couple of great new mandolin tunes that are surly to become standards along with such tunes as Cat Nip, New Camptown Races, and Mexican Stomp,
to name only a few. "The Old Cat Sneezed" and "Ownself Blues" (c) Frank Wakefield, will
surely be heard on the current tour listed below.
The Frank Wakefield Band
"GO EAST" TOUR
** Friday November 12, 2004 **
The Canal Street Tavern
937-461-9343
Showtime 9:30 pm
Dayton, Ohio
Contact Jim Moss regarding the Group Lessons
Sat Nov.13th 2004 (open date)

** Sunday November 14, 2004 **
The Beachland Tavern
216-287-7139
Showtime 7:00 pm
Cleveland, Ohio
Contact Jim Moss regarding the Group Lessons

** Monday November 15, 2004 **
The Purple Fiddle
304-463-4040
Showtime 7:00 pm
Thomas, WV
Contact Jim Moss regarding the Group Lessons
** Tuesday November 16, 2004 **
Cary Street Café
804-353-7445
Showtime 8:00 pm
Richmond, VA
Contact Jim Moss regarding the Group Lessons

** Wednesday November 17, 2004 **
East Hartford Parks & Rec.
860-282-8241, 860-209-8314
Showtime 7:00 pm
East Hartford, CT
Contact Roger Moss regarding the Group Lessons

** Thursday November 18, 2004 **
TurningPoint Cafe
845-359-1089
Showtime 8:00 pm
Piermont, NY
** Friday November 19, 2004 **
Parting Glass
518-583-1916
Showtime 9:30 pm
Saratoga Springs, NY
** Saturday November 20, 2004 **
=> Group Lessons email for info <=
The Baggot Inn
212-477-0622
Showtime 8:00 pm
West Village, New York, NY
Contact Jim Moss regarding the Group Lessons
** Sunday November 21, 2004 **
THIS CONCERT HAS BEEN POSTPONED.
We hope to move this show to the summer.
House Concert
Group Lesson 11:00 am
Showtime 3:00 pm
Paramus, New Jersey
Contact Dan Marcus
Work has picked up on the new Wakefield/Moss Bluegrass Instrumental Project. The use of the new vacuum tube mic preamp has really paid off in producing a fat mandolin sound for Frank as well as for the fiddle. With it's switchable stages we can quickly change from a fat sound to a clear sound for the guitar, banjo and bass. This was just use on the fiddle to record Frank Wakefield's "Ownself Blues".
Work on "Adventures In Bluegrass 4" is still on the drawing board. We have footage from this last years tours including footage of David Grisman recording Frank Wakefield at the DAWG studios. Here is a link to some photos from this session:
http://www.candlewater.com/Preview_1_AB4/
Now here are some very cool photos. Frank made his private photo collection available for display at his the web site. We call it Frank Wakefield's Private Photo Collection.
http://www.candlewater.com/WakefieldPhotoCollection/
This year has been a busy one with our west coast tour, then off to Sweden, Scotland and England as well as here in the USA. What great bluegrass fans we met. You can find photos from our tours at the following links:
http://www.candlewater.com/WT2004_021/indexSweden2.html or at
these links that reside in the upper left of each page:
Wolf Mountain Bluegrass Festival
http://www.mossware.com/FrankLesn.html
Freight & Salvage Berkeley CA USA 2004
http://www.candlewater.com/FWBFreight2004/index.html
Note: These pages are full of photos and may take a little time to download
with a 56K dial up modem.
The February 2005 Tour, the band is hoping to extend their February West Coast tour to include Oregon and Washington in 2005. This will be coupled with Frank Wakefield's 3 day Mando Campover held in Northern California each February. Here 5 students get a chance to spend 3 days with Frank by staying with him in the mountains of California. Any venue ideas
are always welcome or for anyone interested in attending the 2005 Mando Campover:
Contact Jim Moss
Speaking of students, I thought I would include a couple of photos of our students that we have received lately.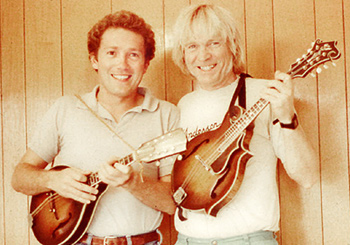 Here is Frank with his student, Randall Colaizzi, in
Wakefield's Oakland CA days.
Photo: Randall Colaizzi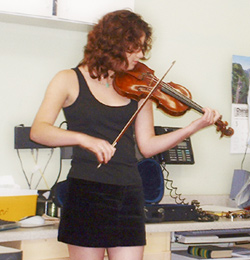 Aimee is a "tele-lesson student" who lives in Oregon. She has been a student for a few years now. Looks like tele-lessoning works. I have never actually met her in person, but look at her bow wrist.
Photo: Aimee C.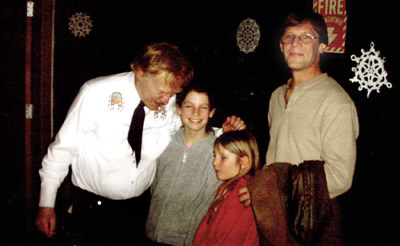 This photo was taken at the Freight & Salvage in 2004. On the right is Tim Fowler, one of Frank Wakefield's students from his days in Oakland CA. Tim attended the 2004 MandoCampover. In this picture Frank tries to keep up with the fast paced wit of Tim's daughters. These kids are really bright and naturally happy.
Photo: Linda Riha
Final Notes:
We have what is the last of the Grateful Dead Records stock of The Good Ol Boys
Pistol Packin Moma CD. This CD is out of print now and has Frank Wakefield,
David Nelson, Don Reno, Chubby Wise and Pat Campbell on bass. We have them.
For information regarding the CD email Jim Moss at: PPM@Candlewater.com
We would like to include these photos from our visit to The 5th String Music Store
in Berkeley CA. They have a great F5 copy that is inexpensive and sounds great.
This mandolin sounded so good that FWB Guitarist Jeff Harris sold his $5,500 Gibson and
bought the one that Frank Wakefield played on stage for about half the price of the Gibson.
I do this knowing that if the demand goes up the price will surly go up, but you cannot look
for a mandolin and not at least play one of the 5th String models.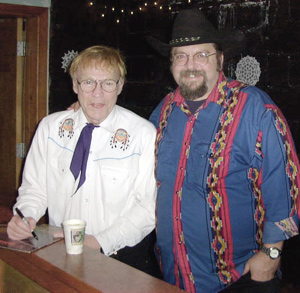 This is James Hyatt the owner or the 5th string and the maker of the 5th String Berkeley mandolins,
called Hyatt mandolins.
Photo: Linda Riha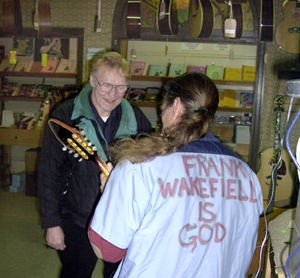 Here is Frank with another one of his old students Tom Etheridge from the Oakland CA days who, at the time of this photo, worked at the 5th String Berkeley Music Store in Berkeley California.
Photo: Linda Riha
Locally, in the studio work goes on with a new Frank Wakefield Beginners DVD and
the new Jim Moss Fiddle Lesson DVD.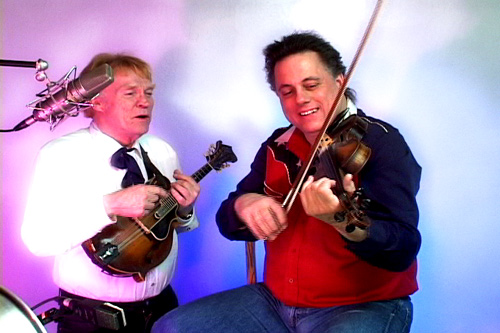 Frank Wakefield helping Jim Moss with his upcoming Ultra Clear
Fiddle Lesson DVD.
Photo: Jim Moss
Below:
Frank Wakefield Band guitarist Jim Lewin records several flat picking breaks for the new Jim Moss
CD project with Frank Wakefield. Jim Lewin can be seen in person with The Frank Wakefield Band
on the GO EAST tour this coming November 12th to 21st.
--------------