B L U E G R A S S__N E W S_LETTER (June 29 2003)

Bill Monroe, Frank Wakefield, Lester Flatt, Ralph Stanley, Kenny Baker, Jimmy Martin, Larry Sparks, Sullivan Family, Tex Logan, Bob Black, Richard Greene, Jack Hicks, Joe Stuart, Joe Mullins, Wilma Lee & Stoney Cooper, Marty Stuart, Wayne Lewis and much more.
Frank Wakefield Band 2003 in California
See Below ()
Please forward this email to anyone you think would be interested
in Bluegrass Music or send us their email address. -- --
Bill Monroe Stamp web page: http://www.billmonroestamp.org/ Sign the guest book to vote.
Off topic, but way cool: http://www.whalesong.net/tech.htm
Bluegrass News March 2003: http://www.candlewater.com/BLUEGRASS_NEWSLETTER/Mar2003/
--

The Frank Wakefield Band,
Adventures in Bluegrass III part 5 (TOTAL)
http://www.rentalfilm.com/AB3/

Adventures in Bluegrass II
http://www.rentalfilm.com/rv12/

NEWS:
The Frank Wakefield Band to Appear at
The Columbia Gorge Bluegrass Festival July 25 & 26th.
For Details: http://www.columbiagorgebluegrass.com/

Mossware LLC has produced a new Frank Wakefield DVD Series:
Frank Wakefield's New DVD "Ultra Clear" Mandolin Lesson Series

The Frank Wakefield Band's
Tour de Southern California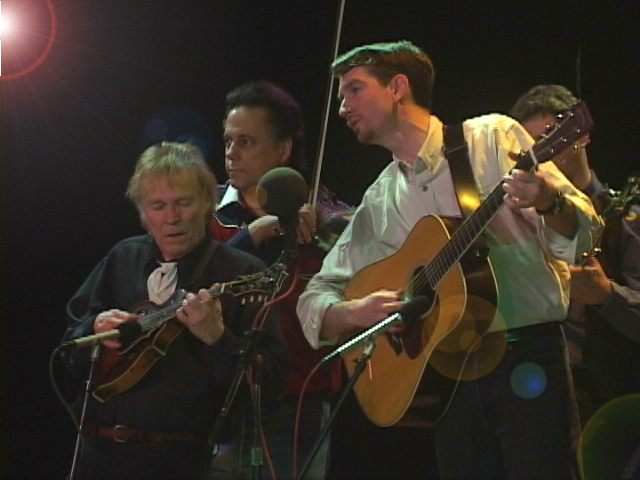 BASC Sell Out Concert at Encino, Southern California.
Frank Wakefield, Jim Moss, Jeff Harris, Graham Murphy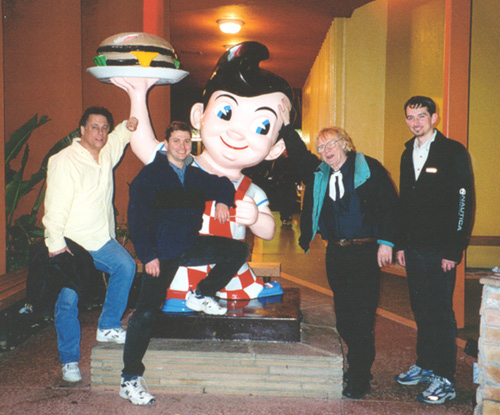 Bob's Big Boy Burbank CA,
a favorite Bluegrass hangout...
After Los Angeles Show:
Jim Moss, Graham Murphy, BOB, Frank Wakefield, Jeff Harris.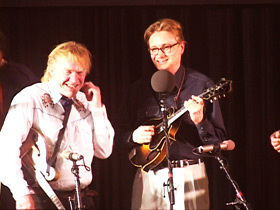 Armatage Elementary School MN
Two Lloyd Loars: Frank Wakefield and Rob Coleman.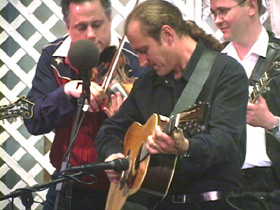 Fitger's Theater Duluth MN
Jim Moss, Jim Lewin, Graham Murphy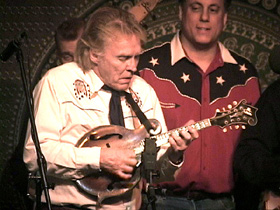 Kraftbrau Brewery, Kalamazoo, MI
Keith Cady, Frank Wakefield, Jim Moss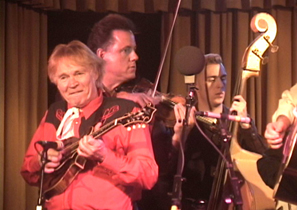 Nevin's Live, Evanston, IL
Frank Wakefield, Jim Moss, Keith Cady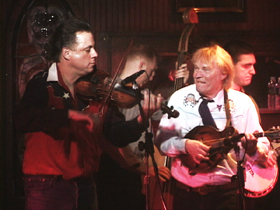 Canal Street Tavern, Dayton, OH
Jim Moss, Keith Cady,
Frank Wakefield, David Russell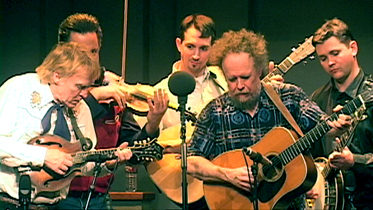 Freight & Salvage, Berkeley CA
Frank Wakefield, Jim Moss, Jeff Harris,
David Nelson, Graham Murphy
Valley Music, San Diego CA
Jim Moss, Frank Wakefield, Jeff Harris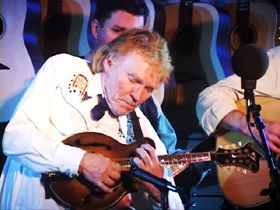 Valley Music, San Diego CA
Frank Wakefield, Graham Murphy,
Jeff Harris

Final Notes:
Jim Moss has been recording the next Wakefield/Moss Bluegrass Instrumental Project
with the vacuum tube mic preamp / processor. The tone of the F5 and the Fiddle when
passed through this amp, are just huge and extremely rich with warmth.

The preamp is not for all types of music as it is being specifically designed for acoustic
bluegrass instruments, and mostly the mandolin, fiddle and banjo although it will be
flexible enough to do normal functions too. The unit will eventually be made available
from ww.candlewater.com as part of a Pro-Audio product line under the Mossware LLC
product label. All that is left is the completion of the design of the rack mount packaging.

Work has begun on the new Jim Moss Fiddle Instructional DVD.


--
==============================================
CD's
Sleeping Lady CD
with Jim Moss, Frank Wakefield and Bob Black
http://www.candlewater.com/sleep/SleepingLady.html
(Ask about the other Frank Wakefield and Jim Moss Video's and CD's.)

Tanyards CD, recorded in 1983
With Special Introduction
http://www.candlewater.com/albums/BB145.html
Fiddle Jim Moss,
Mandolin Jesse McReynolds,
Banjo Bob Black,
Guitar Dave Thompson.

Red Allen & Frank Wakefield Smithsonian Folkways
http://www.candlewater.com/wolfmtn/SIFOLK.html
Email: FWB@candlewater.com

2 New Banjo Tab Books:

"Through The Windshield" Banjo Tab Book.
Through The Windshield Banjo Tab Book
For the CD of the same name with
Jim Moss, Bob Black, Jeff Smith, David Thompson, Paul Squyres
--
"Tanyards" Banjo Tab Book.
Tanyards Banjo Tab Book
For the CD of the same name with
Jim Moss, Bob Black, Jesse McReynolds, Kenny Baker, David Thompson, Roy Husky Jr.
--------------
===================STREAMING MEDIA=====================
Encore Links

The Sullivan Family
Bean Blossom June 2001 (Streaming Video)
http://www.rentalfilm.com/rv13/

LARRY SPARKS
http://www.rentalfilm.com/rv11/
Larry Sparks Video Online (filmed by Jim Moss)
(Presented By Special Permission of Larry Sparks)
This is a Real Media (Real Audio/Video) streaming video of
Larry Sparks & the Lonesome Ramblers at Bean Blossom June 2001
evening show. It is free to view. Shot mostly for musicians
as I included lots of close up shots of Larry's guitar playing.

----------------------- Music ------------------------------

Free mandolin lesson with Frank Wakefield
Click here to hear Frank Wakefield Teach You Catnip

Learn "Cattle In The Cane" (Jim Moss)
http://www.candlewater.com/ra3/cattlein.html

----------------------- Music ------------------------------
----------
BACK IN TIME
So, you think that you have been to jam sessions?
Try this one on for size, its 1957...
Joe Stuart, Joe Meadows and a few friends come over...
to your house... hear it now on mp3.
http://www.mossware.com/music0.html

===================STREAMING MEDIA=====================

----------------------- Photos ------------------------------

KENNY BAKER SPECIAL SITE
Great photos and a live recording of Kenny Baker
with Bob Black at Bean Blossom. This was the first
time they ever played together.. It was after midnight
at Bean Blossom. http://www.mossware.com/scoop/

----------------------- Interviews ------------------------------
FRANK WAKEFIELD: Frank Improves His Lloyd Loar( with epoxy paint)
http://www.mossware.com/story006.html

Frank Wakefield's Walk Through Time
http://www.candlewater.com/ra2/FrankWak.html

JESSE McREYNOLDS TALKS! (PART I) (an interview by Jim Moss)
About Developing His Style and His Band's Early Years.

JESSE McREYNOLDS TALKS! (PART II) (an interview by Jim Moss)
About Developing His Style and His Band's Early Years.

Mc Reynolds In the News 1969
http://www.mossware.com/music15.html

The Making of Tanyards,
Memories of Recording with Jesse McReynolds
http://www.candlewater.com/albums/BB_145.html

JIMMY MARTIN INTERVIEW
Jimmy Martin Tells It Like It Is! (Part 1)
Part 2 "Jimmy Martin Finishes The Job" is on the way.
An amazing and understandable insight into the world of Jimmy Martin.
http://www.candlewater.com/interviews/story007.html

RICHARD GREENE: (Part 1)
http://www.candlewater.com/interviews/story009a.html

Bob Black: (recording Kenny Baker's Dry & Dusty album 1973)
http://www.candlewater.com/interviews/story001.html

Frank Wakefield: (Bluegrass in the 1950's)
http://www.candlewater.com/interviews/story002.html
----------------------- Interviews ------------------------------

-----
Upcoming Interviews yet to be transcribed:
"Richard Greene, Bluegrass Fiddle with Bill Monroe: Parts 1-8"
"Jimmy Martin Part 2"
"Jesse McReynolds"
"Wayne Lewis"
-----


Frank Wakefield / Jim Moss Web Site a Mossware LLC Production
http://www.candlewater.com/

=================================================